Can you say MESSY, COLORFUL, and FUN!!??
That's what we aim for at Pinspiration in Mesa!



A NEW and unique art studio opened its doors in September, and is inspired by the trends of Pinterest and the need for artistic expression in the world! PINSPIRATION is a DIY Craft Studio that is perfect for ALL ages, stages, and skill levels! Pick a project that tickles your fancy, and we'll provide the tools, assistance, and ambience! Expect a great time with your friends, family, or coworkers, as our goal is always to provide a CREATIVE outlet and sociable atmosphere to enjoy!

Provided is a great place to host parties, from birthday to bachelorette, and ladies nights to date nights! Possibilities are plenty, as are the memories! Check out our many options on www.pinspiration.com/Mesa

Book your Splatter Room experience now! For adults and children, this is a great way to expend creative energy while making a spectacular masterpiece at the same time!

RESERVATIONS and WALK-INS are welcome!


HOURS:
Monday / Tuesday: CLOSED
Wednesday / Thursday: OPEN 12 PM to 5 PM
Friday / Saturday: OPEN 12 PM to 8 PM
Sunday: OPEN 12 PM to 5 PM

Join us for a CUSTOMER APPRECIATION EVENT on January 21st from noon to 3pm! We want to thank you for your support, and would love for you to celebrate with us! Get free treats, win prizes, and discounts of up to 50% off crafts, and more!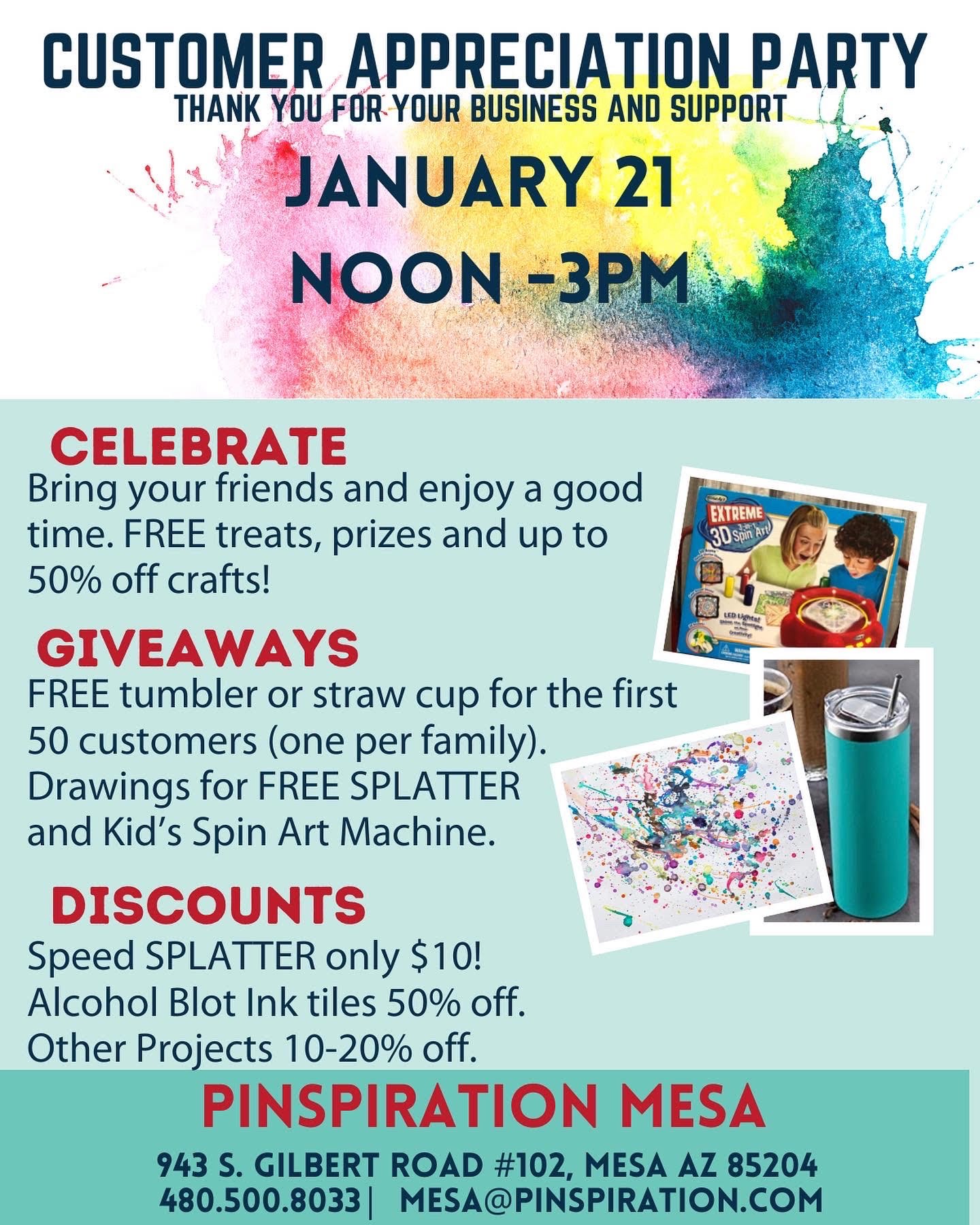 Discover all that Pinspiration has to offer!


Pinspiration Mesa
943 S. Gilbert Rd
Mesa, AZ 85204
480-500-8033

Contact: mesa@pinspiration.com