When it's time to celebrate, think Elevate.
Elevate Trampoline Park Queen Creek offers celebratory style packages for your special occasions. From graduations to birthday parties, you will not be disappointed in the level of fun that comes with choosing Elevate Trampoline Park.

Here is how you plan an excellent visit to this 30,000 square foot indoor activity place.

Step 1: Booking a party is simple, just go to the website page https://elevatequeencreek.com/parties/ and choose a package that suits your event.

Step 2: Once booked, you'll receive a confirmation email and reminder for guests to fill out a waiver before the date and time.

You will also need to send a list of your guests' names to party@elevatequeencreek.com as the event gets closer to confirm if everyone's waiver is complete and set to jump!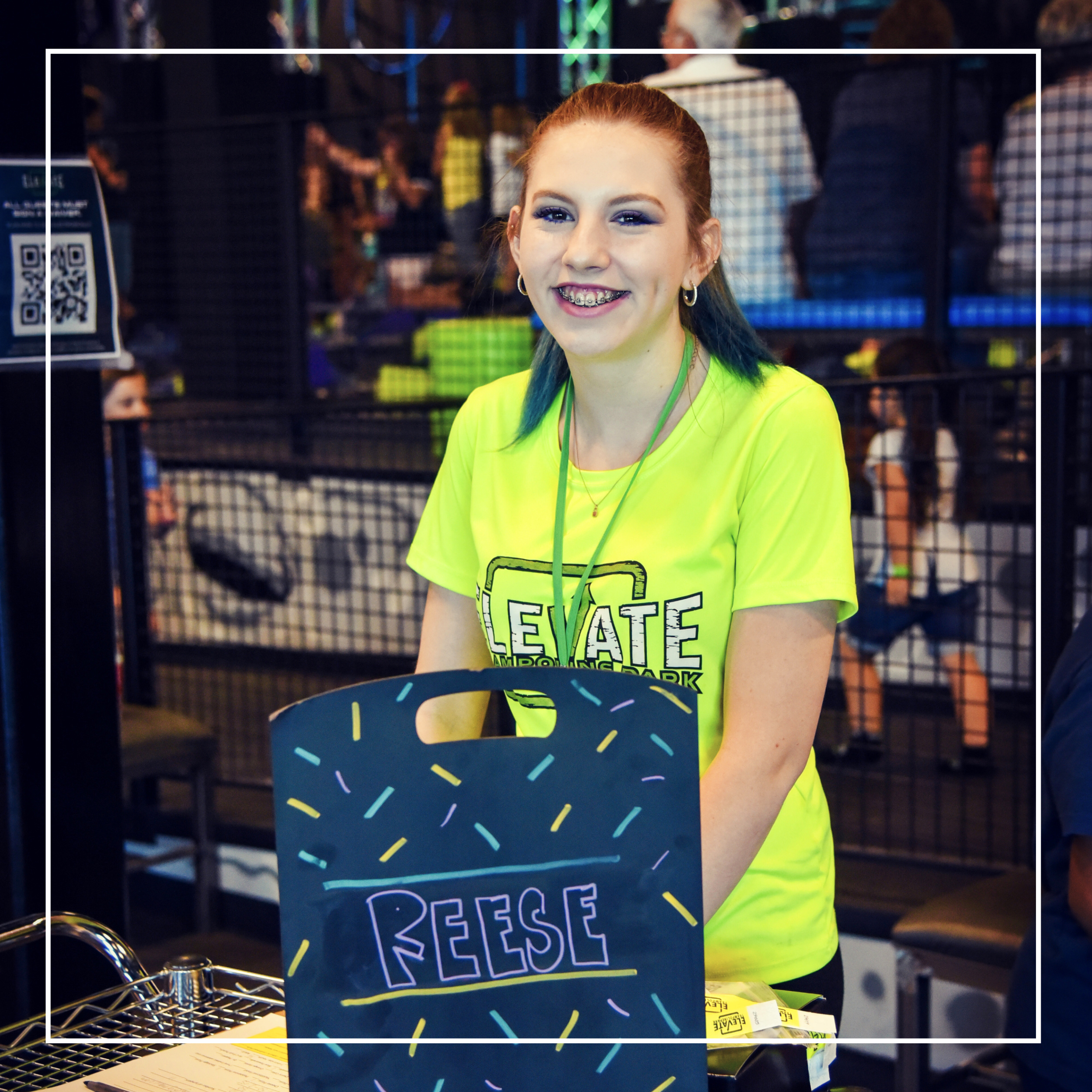 Step 3: Show up with your guests, cake, and gifts! An awesome host(ess) will take care of you from start to finish! This personal attendant will handle the items, gifts, and shoes, while providing socks, smiles, and friendliness.

Step 4: The best part… JUMP! Let the kids get their wiggles out, annnnd repeat! 🏃‍♀🙌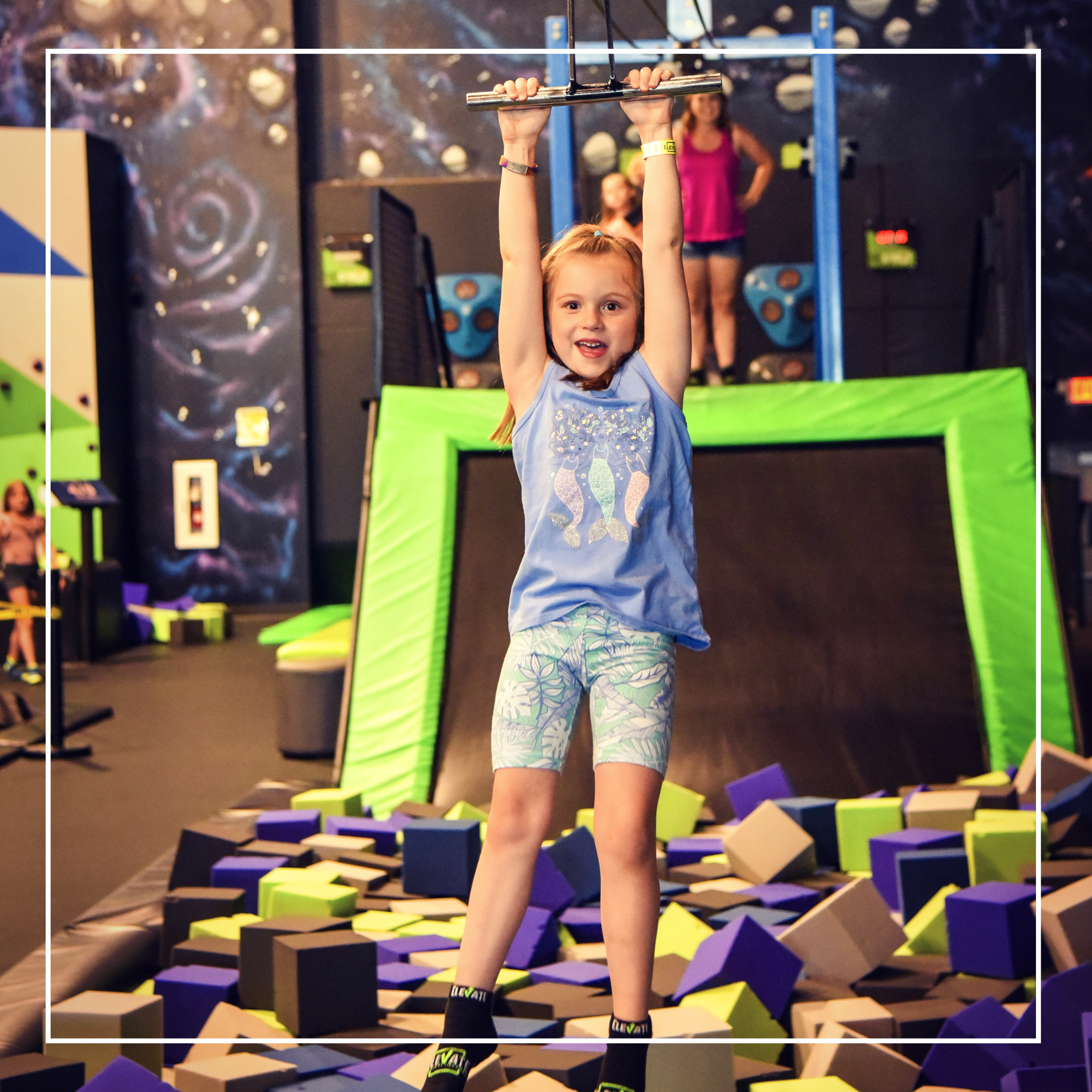 Step 5: Get called to the party room after your allotted jump time has finished. The plates, utensils, and cups are already set up for you, while your personal attendant helps by serving food and drinks to your guests.

Yes, you can sit back and relax! Easy so far, right?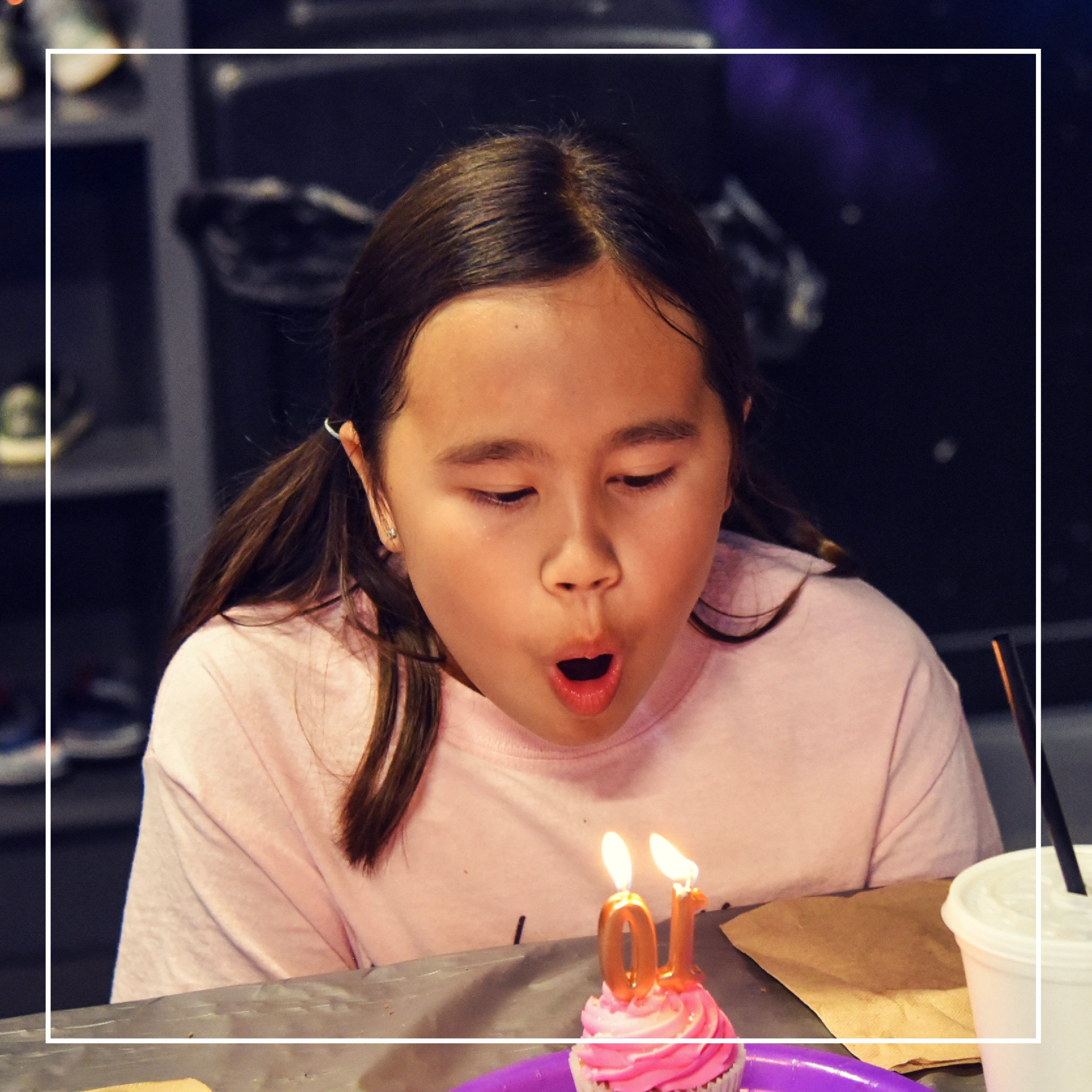 FINAL STEP: Keep the memories and spread the word about Elevate Trampoline Park! Friends should let friends know where they can celebrate and have fun!


Since our daughter recently celebrated her EPIC 10th birthday at Elevate Trampoline park, here are my 10 reasons to choose Elevate for your next special occasion too.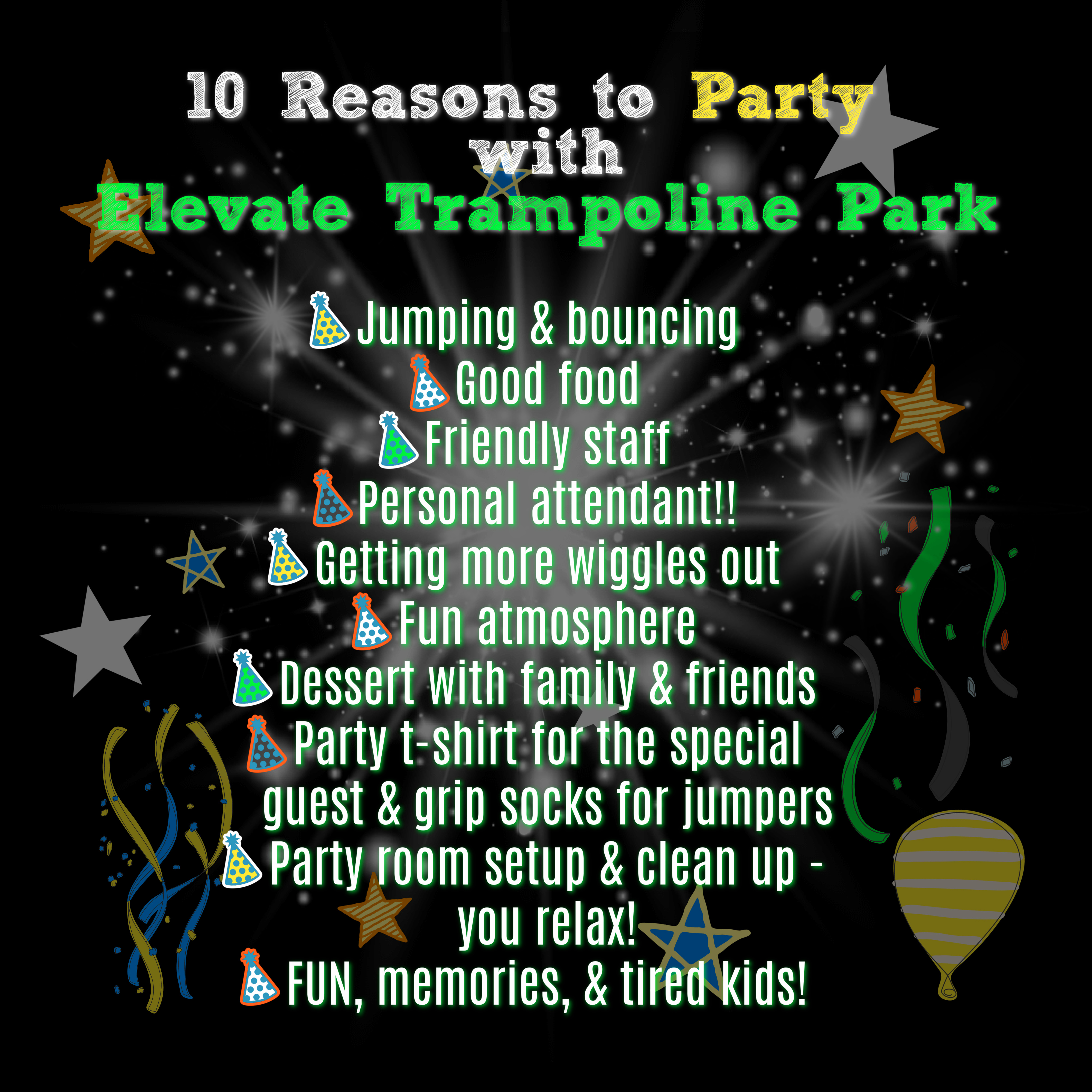 Elevate Trampoline Park did such a great job of keeping the birthday party activities moving and the fun going. Each part of the process, from arrival to end, was met with a seamless transition and each guest had an absolute blast! The staff at Elevate Trampoline Park is very polite and eager to make your event special and memorable! The parents were impressed with how contained and safe the jump area is, and how stress-free they felt too. We are still hearing compliments about how awesome it is to have a party at a trampoline park!

Most importantly, our birthday girl excitedly welcomed her 10th birthday with her close friends the Elevate way!
Keep Elevate Trampoline Park in mind when you are planning your next big event!

All BIRTHDAY PACKAGES include:
🎉 90 minute jump passes for all party guests (birthday child jumps for free)
🎉 45 mins in the party area
🎉 Personal party attendant that sets up and cleans up
🎉 Party plates, utensils, cups, and napkins (additional party decorations need to be authorized by the trampoline park)
🎉 Elevate t-shirt for the birthday jumper and a 1-hour returning jump pass
🎉 Each party guests receives a 50% off coupon for next visit to Elevate
🎉 2-4 large pizzas 2-4 pitchers of soda (depending on the package you have selected)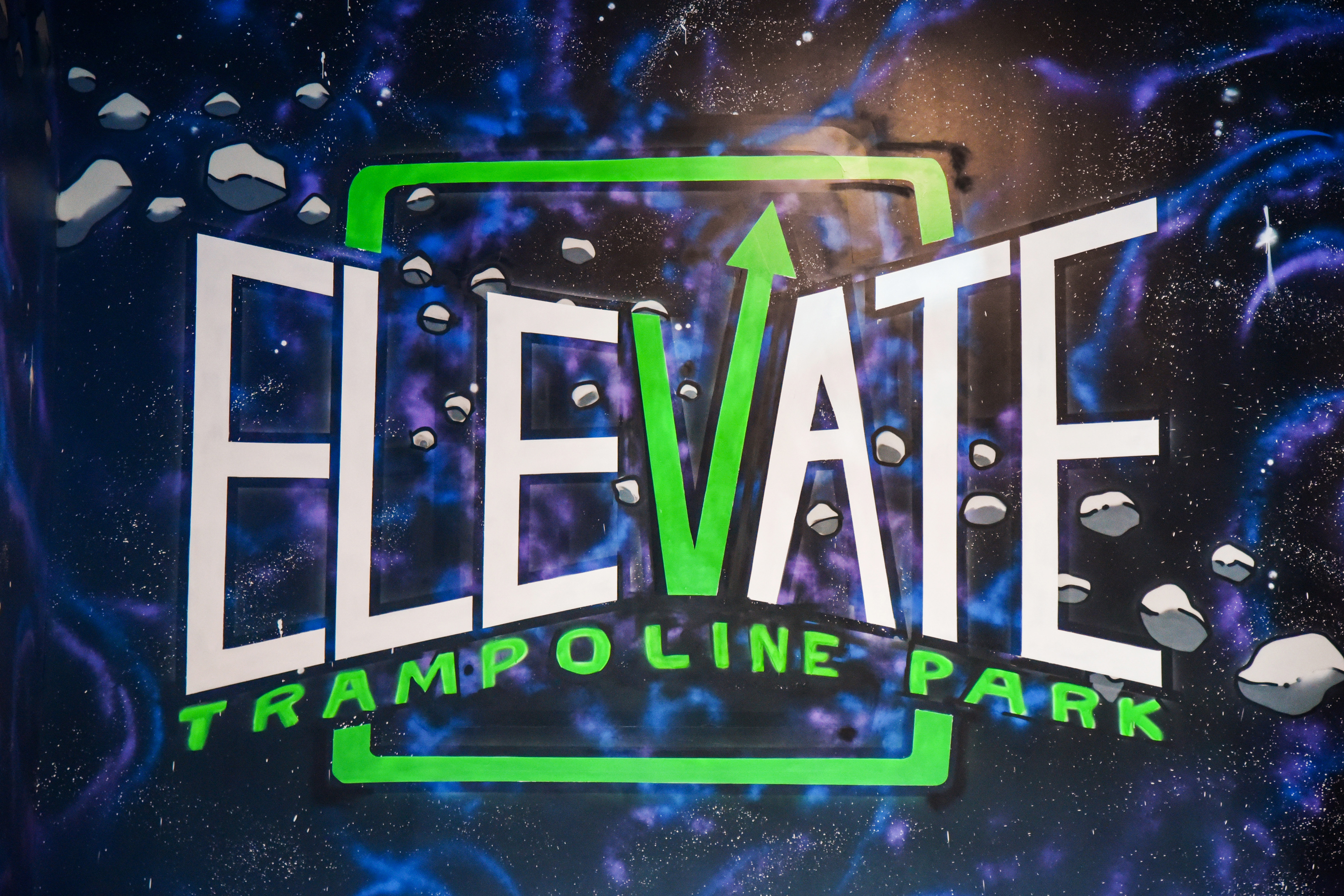 Elevate Trampoline Park
8946 E. Germann Rd
Mesa, AZ 85212
(NW corner of E. Germann Rd and Ellsworth Rd)
480-590-5729
OPEN 7 DAYS A WEEK
Hours:

Monday - Thursday
10am to 8pm

Friday
10am to 10pm

Saturday
10am to 8pm
Teen Night from 8-10pm

Sunday
10am to 6pm
THE COOLEST EXTREME RECREATION PARK IN ARIZONA