As the Millennial workforces' desires for a different work scenario come to fruition, many employees are still tethered to a typical nine to five desk job. To find relief from the common seated position - most likely in front of a computer, massage can help restore the body to a more natural posture.
Many common complaints from workers stuck in a seated position include tension headaches, chronic back pains, stiff wrists, and neck and shoulder aches. To mitigate the standard desk job posture, here is how massage can help:
Massage can restore the natural movements of the body that have been lacking throughout the course of the week. Being slumped over a keyboard in a seated chair can wreak havoc on your body. The most common health related issues that come from a lack of movement include:
Elevated cholesterol
High blood pressure
Neck and spine stress
Upper back pain
Increased risk of cardiovascular disease
Arthritis
Trigger points or muscle knots
By stretching muscles through the application of pressure and manipulation of movement, massage can help elongate your posture and knead out any areas of tension. Additionally, it can work out any problem areas to restore proper range of motion.

Regular massage therapy is great but there are other activities you can incorporate into your daily routine to combat the unhealthy nature of sitting all day, every day. Several suggestions from our staff at Elements Massage South Mesa include setting an alarm on your phone that reminds you to get up, stretch, and go for a walk. Additionally, you can opt to take the stairs instead of the elevator every day and park as far away from your office as possible! Getting movement into your day is incredibly important!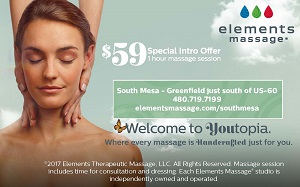 Offer valid at South Mesa Location. First-time customers only.


1705 S Greenfield Rd #103, Mesa, AZ 85206
480.719.7199

Sponsored content.