DIGITOUR MEDIA PARTNERS WITH GOOD TIMES TALENT ON MULTI-YEAR, FIVE TOUR DEAL
DigiTour: Good Times Tour Kicks Off July 15th with Tyler Brown, Bryce Hall, Jackson Krecioch, Mikey Barone, Justin Blake, and More!
Tickets for the July 29th Show at The Marquee in Tempe Available NOW at www.luckymanonline.com
DigiTour Media announced it is partnering with Good Times, a group of Instagram, Musical.ly, YouTube and SnapChat performers, on a multi-year, five tour deal. The partnership will kick off with the DigiTour: Good Times tour beginning on Saturday, July 15th in Portland, Oregon. Making stops in 21 major markets across the country, including The Marquee in Tempe on July 19th, the tour will be headlined by Good Times talent including Tyler Brown, Bryce Hall, Jackson Krecioch, Mikey Barone and Justin Blake among others.
"Working with a reputable brand like DigiTour, who's been in the industry for over six years, allows us to take the Good Times tour to a whole new level and give our fans and supporters a really unique and memorable experience," said Michael Weist, founder of Good Times Entertainment. "We are excited for DigiTour: Good Times and can't wait for the future!"
DigiTour Media, which is celebrating six years of creating "Best Day of Your Life" events for youth around the world, will bring one-of-a-kind personalities, talent, and performances to life with DigiTour: Good Times. The family-friendly concert event will feature Tyler Brown (@tylerbrown) who has amassed well over 5M fans, better known as "Tyler's Brownies," on Musical.ly after his video with Jordyn Jones and Jackson Krecoich "Steady 1234" became featured on the app. With 3.8M fans on Musical.ly, Justin Blake (@justinblake) is now one of the app's most visible stars. He originally rose to fame through his YouTube channel, "Blake Boys" a collaboration with his brother Danny and good friend Damon. Jackson Krecioch (@jacksonkrecioch) maintains an audience 3.3M on Musical.ly but originally developed his fanbase after his skits across multiple networks including YouTube and YouNow. Additional Musical.ly personalities on hand include Bryce Hall (@brycehall) 2.7M and Mikey Barone (@mikeybarone) 649K.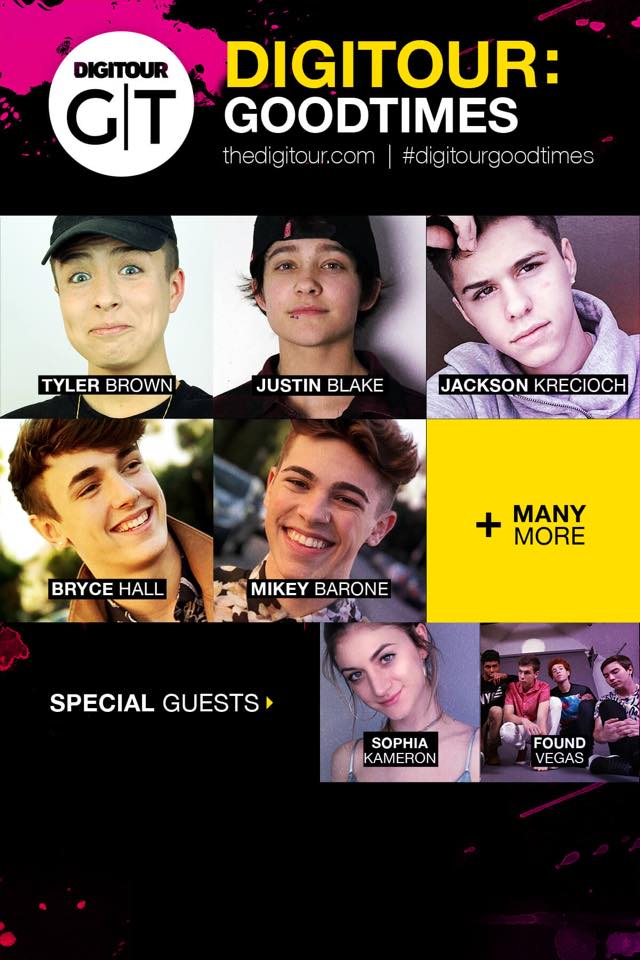 Enter to win HERE
Full Rules found HERE
Winner selected 7/14/17 and will be contacted via the email address given in entry form.
Sponsored content