When I was presented with the opportunity to review the Chicco Fit2 car seat I jumped at it!  Pierce was just about to turn 1.  He was under weight and no where near ready to turn forward facing.  He was out growing the infant bucket car seat we had but most of the convertible car seats I saw were too big and bulky.  I'm so glad we found the Fit2, the perfect solution.
Although the laws vary from state to state about when you can legally turn your child rear facing the recommendation to wait until the child is two is unwavering among car seat manufacturers, pediatricians, and child safety experts.  It is strongly encouraged to wait at least until two, longer if at all possible.  If you would like more information about why it is so strongly recommended and safer click HERE.  You can use the hashtag #TurnAfter2 to help educate and encourage other families to wait until the age of two.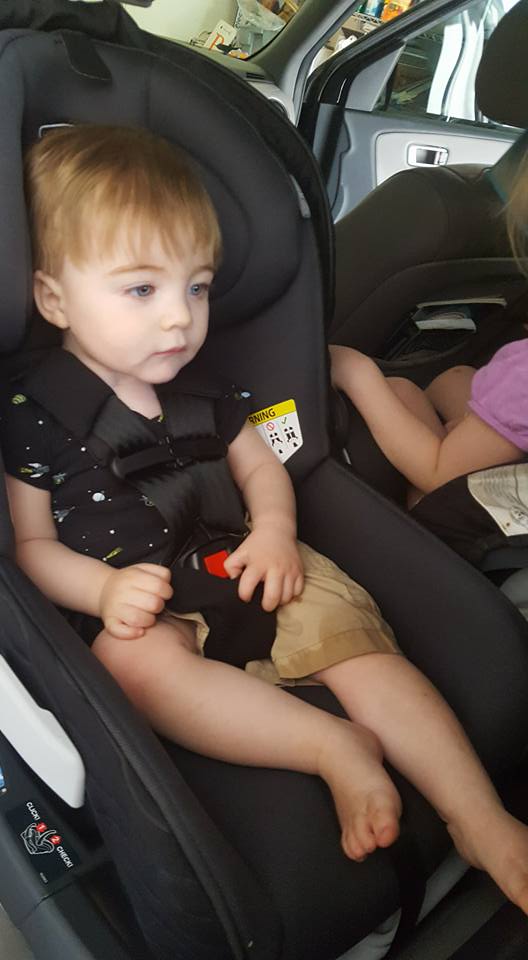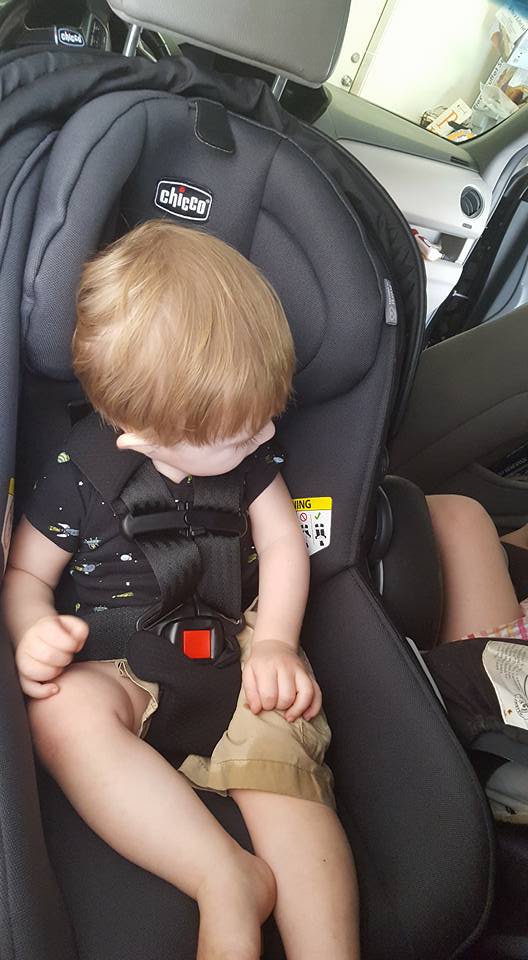 Pierce enjoyd all the leg room he had.  So much better than the bucket car seat.  He also loved the comfortable head support.  I love that the base for the Fit2 is not any bigger than the infant bucket seat.  We are still able to fit three car seats in our second row.  The ease with which you can switch from the infant to toddler is awesome.  The difference is how up right the child sits.   We had to go out of town three weekends in a row.  This gave us plenty of time to really break in the car seat and see what we thought.  Since switcing from infant to toddler is so simple I would switch it back to infant when we were driving through nap time.  After Pierce was up I'd switch it back to toddler.  We didn't have to take out the base, use any tools, just a simple switch of the lever.  It certainly made traveling nicer for all of us.
The Fit2 also has the miracle all mothers have been wishing for, one handed handle adjustment!  No more awkwardly reaching across your baby to move the handle back.  Need to move the handle from the front passenger seat?  No problem, you can reach and do that.  Pierce loves that he can pull down the handle and get to his toys.  Yes, you just read that correctly, my baby can pull the handle down by himself and play with his toys when he wants!  The handle doesn't lock in the half way back spot so it can easily be adjusted forward.  It's pretty life changing I must say.
You can find the Fit2 at our local Babies R Us or online.  
**I received the Chicco Fit2 at no cost in exchange for the review.  The thoughts and opinions are all my own.